If you are looking to improve the performance of your coating, consider additives.
According to Paint & Coatings Industry Magazine:
"Coatings additives are some of the most important contents in the formulation of a coating, as they help control its performance. Applications of these additives range from furniture and construction to automotive coatings, and more. Coatings additives are being increasingly used to modify the rheology, wetting and dispersing, anti-fouling and anti-foaming properties of coating formulations. With tightening environmental regulations, the focus on the use of waterborne and powder coatings is increasing.
"The global coatings additives market is witnessing increasing demand from various industries. Coatings additives are a specialized group of chemically engineered materials that find application in a number of industries. Their use in coatings formulations is increasingly becoming popular due to the performance enhancements that these materials offer. They impart excellent chemical properties to the formulation, including improved wettability, dispersion, rheology, UV protection, chemical resistance and high-temperature stability. They are widely used in many industrial fields under severe conditions. Owing to their special function and relatively low production volume when compared with the formulations, their prices are relatively high.
"The global coatings additives market size was USD 7.8 billion in 2018, and is projected to register a CAGR of 6.14% between 2018 and 2023. In 2018, the Asia Pacific (APAC) region dominated the coatings additives market, in terms of both volume and value. In 2018, it accounted for a share of 41%, in terms of value of the overall coatings additives market (Figure 1). Increasing demand from the architecture, automobile, industrial, and wood and furniture industries in China, India and Japan is propelling the market for coating additives.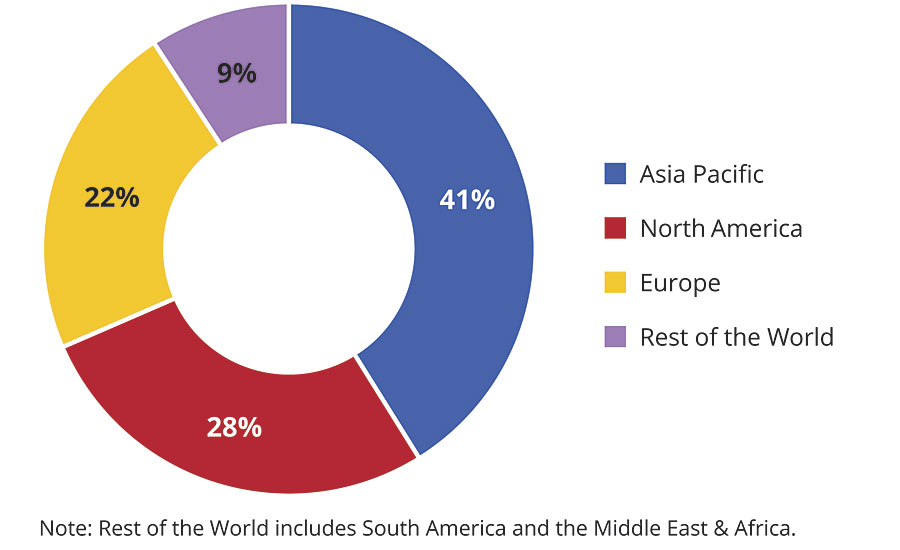 Rheology Modification Function Generates the Highest Demand
"Additives constitute an average of 0.1-5.0% of a formulation's concentration, which controls the formulation's rheology, slip and rub, wetting and dispersing, and foam reduction properties, making them an essential part of the formulation. The major functions of coatings additives are rheology modification, biocide, anti-foaming, and wetting and dispersion, among others. Rheology modifiers acquired a major share of 32% in terms of volume of the coatings additives market in 2018, followed by wetting and dispersion agents (21%), and anti-foaming agents (12%). Rheology modification includes modification of the rheological properties of coatings, such as viscosity, surface tension, sagging and thickness of the film, among others. It is essential to control these properties, as the performance of coatings depends on them. Table 1 gives a brief description of some common coatings additives.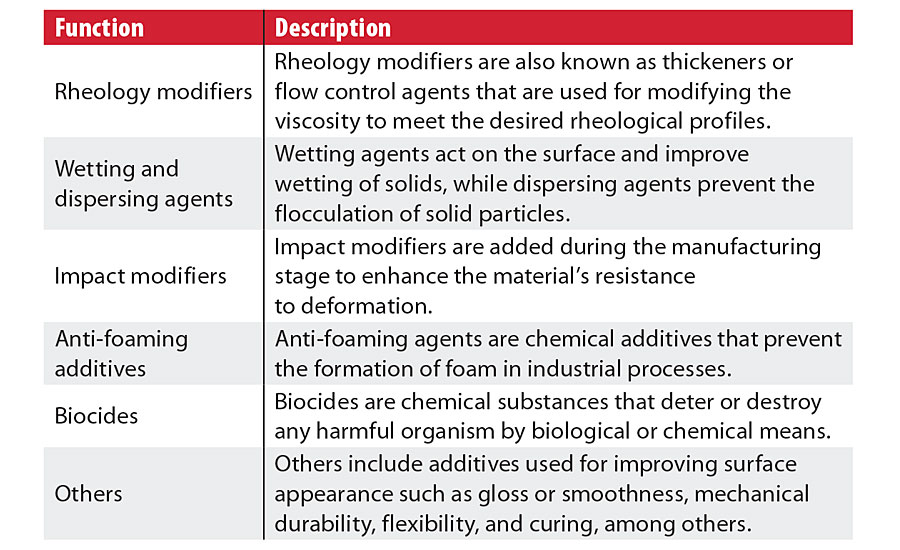 "The ability of coatings additives to provide protection from moisture, microbial growth, heat and chemicals make them ideal for protection. The demand for coatings additives is expected to be driven by significant growth in key end-use industries such as construction, automotive, wood and furniture, and electronics, and the increasing demand for high-performance and multi-functional additives in architectural coating applications (Figure 2). Also, the growing demand for environment-friendly products that reduce VOCs and APEO in the formulations is expected to drive the global coatings additives market.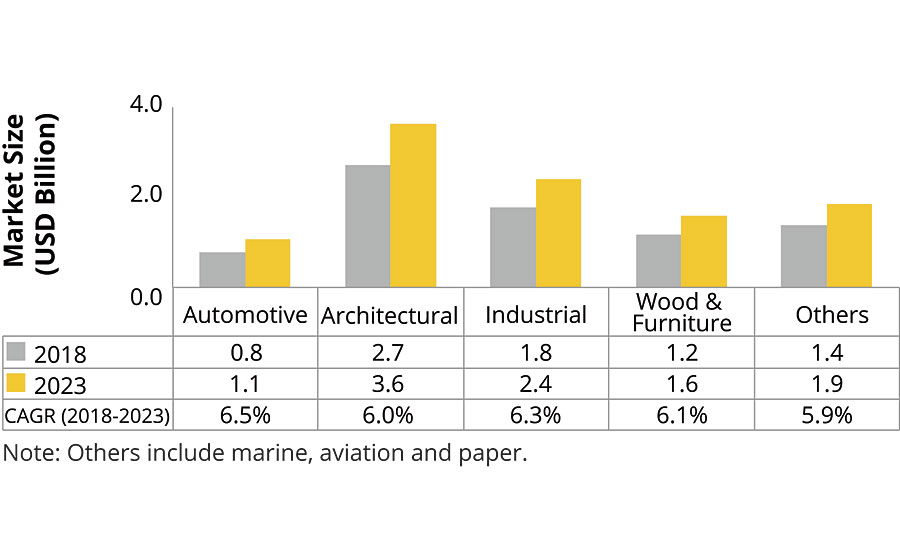 Growing Demand for Multi-Functional Additives
"The focus of the coatings additives market is shifting toward the development of additives that not only enhance performance, but enable both customers and suppliers to build products that comply with global and regional environmental standards. There is a need to develop products that can minimize the total concentration of additives as a whole and also tackle various challenges at once. This is because for every mechanical property such as thickening, gloss and fluidity, a separate additive is used. In order to solve the issue of using different additives to counter different mechanical properties of coatings, multi-functional additives have been developed. This new mixture serves the application of various additives by simplifying the coating chemistry. They decrease the overall additive content, thereby reducing the raw material inventory, the total coating cost, and improving manufacturing productivity. The benefits of these additives offer a good opportunity for companies that are developing new coatings. They are expected to have a high impact on the coatings additives market in the near future."